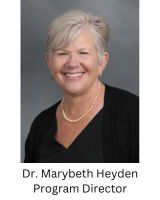 Pediatric Primary Care Nurse Practitioner
Distance Education with On-Site Requirements

Program Overview
The Pediatric Primary Care Nurse Practitioner Program prepares nurses as expert providers of primary health care to children and their families across health care settings. The primary focus of the program is to prepare the graduate to promote, maintain, supervise and restore health, identify health risks, and assess, diagnose, and manage acute and chronic illnesses common in primary care. The ability to function as an educator, leader, consultant, advocate, and change agent is an essential to the development of clinical expertise in this role.
Graduate Program Outcomes
Integrate scientific findings from nursing and related sciences to improve nursing care across diverse settings. (Essential I)
Demonstrate leadership by collaborating and consulting with key stakeholders in the design, coordination and evaluation of patient care outcomes. (Essential II)
Apply quality and safety principles within an organization to be an effective leader and change agent. (Essential III)
Integrate theory, evidence, clinical judgment, research and interprofessional perspectives to improve practice and health outcomes for patient aggregates. (Essential IV)
Ethically utilize data, information and appropriate technology to evaluate and achieve optimal health outcomes. (Essential V)
Demonstrate political efficacy and competence to improve the quality of healthcare delivery and health outcomes of populations. (Essential VI)
Integrate the concepts of interprofessional communication, collaboration and consultation to effectively manage and coordinate care across systems. (Essential VII)
Synthesize ecological, global and social determinants of health to design and deliver culturally relevant clinical prevention interventions and strategies. (Essential VIII)
Demonstrate behaviors of professional engagement and lifelong learning. (Essential IX)
Admission Requirements
Completed application
Bachelor of Science degree with a major in nursing (For Applicants with non-nursing bachelor degrees, see the Clinical Practice Portfolio requirement below)

*
Minimum of one year's recent relevant experience (preferred)
Unofficial transcripts from all college/universities attended
Cumulative grade point average of at least 3.0
Current professional Registered Nurse license
Three online letters of recommendation
Three credit undergraduate course in Health Assessment
Three credit undergraduate course in Statistics
Meet all Technical Standards for Admission and Retention

* Clinical Practice Portfolio - Registered Nurse applicants to a master's program with a non-nursing bachelor's degree are required to submit a clinical practice portfolio to be evaluated for baccalaureate-level nursing competencies upon conditional admission once they have been admitted to a program. Upon successful completion of the portfolio, the student will be admitted to the program. If the portfolio does not meet academic standards, the student cannot progress in the program.
The Clinical Practice Portfolio is only required for those Registered Nurse applicants with a non-nursing bachelor's degree who have been offered conditional acceptance.

Additional Requirements Upon Admission
NP Student Malpractice Insurance Required
Official transcripts from all colleges/universities attended
Current curriculum vitae/resume
All newly admitted students will receive an email from the SON Required Documentation email address, shown below, with detailed instruction to utilize the required CastleBranch web-based software system. This system requires a one time fee and is where students will upload and manage required documents."son_required_documentation@stonybrook.edu"
Transcripts from foreign institutions must be evaluated for transfer equivalency credits by an accredited evaluation service, such as the World Education Services (WES) http://www.wes.org
Graduates from this program will be eligible for certification and registration as a nurse practitioner by New York State Education Department and are also eligible for National Certification as a Pediatric NP - Primary Care.
The Stony Brook University School of Nursing reserves the right to change admission and program criteria to meet prevailing accreditation, regulatory and registration requirements.


Process for Clinical Experiences
The Office of Clinical Placements facilitates the processing of clinical placement requests and contracts for all clinical affiliations within the baccalaureate, master's, advanced certificate, and DNP programs. The office works collaboratively with faculty to secure clinical placement sites for students. Once a suitable site is identified, students submit a clinical placement request form for processing. The office maintains electronic data systems and records related to students, clinical placement sites, clinical affiliation agreements, clinical contracts and preceptors. Central to the clinical placement process for all programs is the establishment of a clinical affiliation agreement and clinical contract which is executed between SUNY and the clinical site. Upon final execution of a clinical affiliation agreement, SUNY procures and provides the site with a certificate of insurance or related protection evidencing the required insurance coverage. The provisions of a clinical affiliation agreement and clinical contract include the responsibilities and mutual terms that are agreed upon during the life of the agreement.


Graduation Requirements
Credits

Core
HNH 503 Organizational Leadership and Role Transformation
3
HNH 504 Quality Improvement, Safety, and Health Care Technologies
3
HNH 505 Health Care Policy and Advocacy
2

Research
HNG 541 Nursing Research & Evidence-Based Practice I
3
HNG 543 Nursing Research & Evidence-Based Practice II
3

Pharmacology
HNG 540 Clinical Pharmacology
3

Health Assessment
HNG 525 Advanced Health Assessment Child Health
3

Pathophysiology
HNG 588 Clinical Pathophysiology Across the Lifespan
3
HNG 520 Pediatric Pathophysiology
3

Clinical Courses
HNG 518 Advanced Theory & Clinical Practice in Pediatric Nursing Across the Continuum I
4
HNG 528 Advanced Theory & Clinical Practice in Pediatric Nursing Across the Continuum II
4
HNG 538 Advanced Theory & Clinical Practice in Primary Care Pediatric Nursing I
5
HNG 548 Advanced Theory & Clinical Practice in Primary Care Pediatric Nursing II
4

Electives

2

Total Credits

45


The Baccalaureate degree program in nursing/Master's degree program in Nursing/Doctor of Nursing Practice program and/or advanced certificate program at Stony Brook School of Nursing are accredited by the Commission on Collegiate Nursing Education (CCNE) https://www.aacnnursing.org/CCNE

Students are prepared to sit for the following national certification exam:
Primary Care Certified Pediatric Nurse Practitioner (CPNP-PC)
PNCB: http://www.pncb.org/)


For more information, please contact:

Email address: pnp.nursing@stonybrook.edu