Offered Through Distance Education with On-site Requirements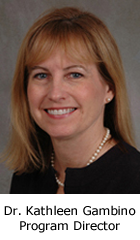 | | |
| --- | --- |
| Summer Admission: | RN license required |
Program Overview
The Registered Nurse Baccalaureate to Master's Program is designed for students with either an associate degree or diploma in nursing. The curriculum is concentrated in the upper division and leads to a Bachelor of Science degree with a major in nursing. Upon meeting progression criteria, students will continue to the Master of Science program in their designated specialty.
Undergraduate Program Outcomes
Upon completion of the program the baccalaureate graduate nurse will be able to:
Apply principles from the sciences, arts and humanities to patient-centered nursing practice. (Essential I: Liberal Education for Baccalaureate Generalist Nursing Practice)
Use theories from nursing and related disciplines to guide research, policy and clinical nursing practice. (Essential V: Health Care Policy, Finance, and Regulatory Environments)
Integrate best current evidence with clinical expertise in the delivery of safe, quality care to diverse individuals, families and communities. (Essential III: Scholarship for Evidence Based Practice; Essential IX: Baccalaureate Generalist Nursing Practice / QSEN: Evidence Based Practice)
Apply knowledge and skills in leadership, quality improvement and patient safety to provide high quality health care. (Essential II: Basic Organizational and Systems Leadership for Quality Care and Patient Safety / QSEN: Quality Improvement; QSEN: Safety)
Use information management and patient care technologies in communication, mitigation of error, decision making and optimization of quality patient outcomes. (Essential IV: Information Management and Application of Patient Care Technology / QSEN: Informatics)
Engage effectively within nursing and interprofessional teams to foster open communication, mutual respect, and shared decision. (Essential VI: Interprofessional Communication and Collaboration for Improving Patient Health Outcomes / QSEN: Teamwork and Collaboration)
Demonstrate professionalism and the inherent values of altruism, autonomy, human dignity, integrity, and social justice. (Essential VIII: Professionalism and Professional Values)
Incorporate cultural values and preferences in the delivery of care to individuals, families, communities and populations across the life span. (Essential VII: Clinical Prevention and Population Health / QSEN: Patient-Centered Care)
Formulate the value of practice excellence, lifelong learning and professional engagement. (Essential VIII: Professionalism and Professional Values)
Admission Requirements
Minimum cumulative G.P.A. of 3.0 is required
Minimum 1 year clinical experience as an
RN in clinical area of interest
57 college credits with a grade C or better
in the following courses
Required Courses

*

  Credits
English Composition
3
Sociology
3
Psychology
3
Lifespan Development
3
Microbiology/Lab
4
Anatomy and Physiology I/Lab
4
Anatomy and Physiology II/Lab
4
Chemistry
3
Statistics
3
Humanities
6
Fine Arts
3
US History
3
Global Issues
3
Second Semester of Elementary Foreign Language

**

3
Electives
9
Total Credits
  57 minimum
*The SUNY Transfer Path for Nursing may affect admission requirements for graduation of SUNY AS degree programs in nursing. Applicants are urged to attend Information Sessions for further advisement regarding admission requirements.
**Stony Brook University students who satisfy the LANG(Communicate in a language other than English) requirement for foreign language through the Stony Brook University Placement Exam will fulfill the foreign language admission requirement for the School of Nursing. However, the number of required elective credits must increase from 9 to 12 in order to meet the minimum requirement of 57 credits.
Additional Application Requirements
Application and personal statement
Paid application fee or approved waiver
Unofficial transcripts from all colleges/universities attended
Three online letters of recommendation
Completion of three prerequisite sciences by the application deadline
Proof of one to two years clinical experience as a registered nurse in clinical area of interest
Meet the Professional Standards For Admission and Retention (see below)
Additional Requirements upon Admission
Official transcripts from all colleges/universities attended
All newly admitted students will receive an email from the SON Required Documentation email address, shown below, with detailed instruction to utilize the required CastleBranch web-based software system. This system requires a one time fee and is where students will upload and manage required documents."son_required_documentation@stonybrook.edu"
All preadmission classes must be completed prior to the start of the program
Notes
Applications are available after August 1 at www.nursing.stonybrookmedicine.edu
Receipt of application, letters of recommendation and paid application fee (or approved waiver) are due at application deadline
All foreign transcripts must be evaluated by the World Education Services (http://www.wes.org) or a comparable institution
Admission to the Nursing program is highly competitive. Meeting minimum criteria for admission does not guarantee acceptance. The School of Nursing reserves the right to make final decisions based upon the applicant pool each year.
All admissions required coursework must be completed prior to beginning the nursing major.
THE SCHOOL OF NURSING RESERVES THE RIGHT TO CHANGE ADMISSION AND PROGRAM CRITERIA TO MEET PREVAILING ACCREDITATION AND REGISTRATION REQUIREMENTS
For more information, please contact:
Valerie DiGiovanni
Email address: Valerie.DiGiovanni@stonybrook.edu