Offered Through Distance Education with On-site Requirements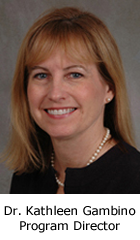 | | |
| --- | --- |
| Summer Admission: | RN license required |


Program Overview
The Registered Nurse Baccalaureate to Master's Program is designed for students with either an associate degree or diploma in nursing. The curriculum is concentrated in the upper division and leads to a Bachelor of Science degree with a major in nursing. Upon meeting progression criteria, students will continue to the Master of Science program in their designated specialty.
Admission Requirements
Minimum cumulative G.P.A. of 3.0 is required
Minimum 1 year clinical experience as an
RN in clinical area of interest
57 college credits with a grade C or better
in the following courses
Required Courses

*

  Credits
English Composition
3
Sociology
3
Psychology
3
Lifespan Development
3
Microbiology/Lab
4
Anatomy and Physiology I/Lab
4
Anatomy and Physiology II/Lab
4
Chemistry
3
Statistics
3
Humanities
6
Fine Arts
3
US History
3
Global Issues
3
Second Semester of Elementary Foreign Language

**

3
Electives
9

Total Credits

  57 minimum
*The SUNY Transfer Path for Nursing may affect admission requirements for graduation of SUNY AS degree programs in nursing. Applicants are urged to attend Information Sessions for further advisement regarding admission requirements.
**Stony Brook University students who satisfy the skill level 3 requirement for foreign language through the Stony Brook University Placement Exam will fulfill the foreign language admission requirement for the School of Nursing. However, the number of required elective credits must increase from 9 to 12 in order to meet the minimum requirement of 57 credits.


Additional Application Requirements
Application and personal statement
Paid application fee or approved waiver
Unofficial transcripts from all colleges/universities attended
Three letters of recommendation
Completion of three prerequisite sciences by the application deadline
Proof of one to two years clinical experience as a registered nurse in clinical area of interest
Meet the Technical Standards For Admission and Retention (see below)

Additional Requirements upon Admission
Official transcripts from all colleges/universities attended
Certification in Basic Life Support for Health Care Providers (BLS) w/ AED
Evidence of meeting University health requirements
Evidence of health insurance
Evidence of student malpractice insurance
Evidence of RN license (required for clinical experience in the U.S.)
All prerequisite classes must be completed prior to the start of the program

Notes
Applications are available after September 1 at www.nursing.stonybrookmedicine.edu
Receipt of application, letters of recommendation and paid application fee (or approved waiver) are due at application deadline
All foreign transcripts must be evaluated by the World Education Services (http://www.wes.org) or a comparable institution
Admission to the Nursing program is highly competitive. Meeting minimum criteria for admission does not guarantee acceptance. The School of Nursing reserves the right to make final decisions based upon the applicant pool each year.
The first two years may be completed at Stony Brook or another accredited college or university. All admissions required coursework must be completed prior to beginning the nursing major.
THE SCHOOL OF NURSING RESERVES THE RIGHT TO CHANGE ADMISSION AND PROGRAM CRITERIA TO MEET PREVAILING ACCREDITATION AND REGISTRATION REQUIREMENTS

Registered Nurse Baccalaureate to Master's Program Curriculum


Graduation Requirements
Credits

Professional Socialization
HNC 350 Professional Role Development in Nursing
2
HNC 440 Research in Nursing
2
HNC 479 Transitions Into Professional Practice
3

Health Related Sciences
HBP 310/HNC 310 Pathophysiology
3
HNC 333 Fundamentals of Pharmacology
4
HNC 499 Clinical Epidemiology
3

Clinical Nursing
Clinical Practice Portfolio - submitted while in program
28
HNC 340 Novice to Expert
6
HNC 370 Health Assessment
3
HNC 469 Population Health Nursing
6
HNC 471 Nursing Management Practicum for BS/MS students
3
Electives
0

BS/MS - Graduate Core Classes
HNH 503 Organizational Leadership and Role Formation
3
HNH 504 Quality Improvement, Safety and Healthcare Technologies
3
HNH 505 Healthcare Policy and Advocacy
2

Total Credits

  *71
(*43 Curriculum + 28 Clinical Practice Portfolio)


Advanced Placement Credits
RN Baccalaureate students are required to submit a clinical practice portfolio to be evaluated for 28 advanced placement credits. If the portfolio does not meet academic standards, the student will not be able to continue in the program.The cost is $300.00
For more information, please contact:
Valerie DiGiovanni
Email address: Valerie.DiGiovanni@stonybrook.edu