Offered Through Distance Education with On-Site Requirements
  **The School of Nursing is currently only accepting applicants with advanced standing to the DNP program. In order to apply, you must hold a Master of Science degree as an advanced Nurse Practitioner or as a certified Nurse Midwife.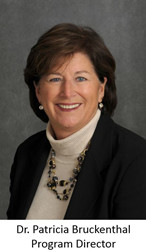 Program Overview
The Doctor of Nursing Practice  (DNP) degree was adopted by the Association of Colleges of Nursing (AACN) in response to a number of societal, scientific, and professional developments. Among these, the nursing shortage and the crisis in the health care system have collectively called for a major paradigm shift that will empower the advanced practice nurse to respond to these developments as they evolve over time. The DNP degree represents the attainment of the highest level of preparation in specialty nursing practice.
The license-qualifying Post-Baccalaureate **DNP Program at Stony Brook University School of Nursing will prepare diverse clinical leaders who can influence health care outcomes, critically appraise evidence and facilitate the transition of best evidence to best practices. The DNP graduate will ensure accountability for quality health care, utilize information technology to support and improve patient outcomes and health care systems, and set, influence, and implement health policy that will secure improvements in global population health. Interprofessional teams with collaborative leadership will enable the DNP graduate to analyze complex practice and organizational issues and effect improvements in health care delivery models.
The Doctor of Nursing Practice (DNP) Program is offered in the following population foci: Adult-Gerontology-Primary Care Nurse Practitioner, Family Nurse Practitioner, Pediatric-Primary Care Nurse Practitioner, Women's Health Nurse Practitioner, Neonatal Nurse Practitioner, Psychiatric-Mental Health Nurse Practitioner and Nurse Midwifery. The Post-Baccalaureate DNP Program is designed for registered nurses who hold a baccalaureate degree with a major in nursing. The program length is 87 credits and a minimum of 1,000 hours of scholarly clinical practice are required. Nurse practitioners and nurse midwives who hold a Master's degree in nursing may be eligible for advanced standing and enter the DNP program at the post-masters level. A gap analysis is conducted to confirm previous coursework taken and validate the number of clinical hours performed at the Master's level. The program length is a minimum of 42 credits. A minimum of 500 additional hours of scholarly practice are required to meet the 1,000+ post-baccalaureate scholarly practice hour requirement.
The DNP program at Stony Brook University School of Nursing is offered using an on-site, executive cohort model. Throughout the program, doctoral students will develop the foundational, clinical, organizational, systems, and leadership skills necessary for transforming health care delivery and improving outcomes for selected vulnerable patients and populations. Through development of a selected DNP project and participation in DNP Residencies, students may pursue study in various areas of clinical inquiry. The faculty of the School of Nursing is committed to a spirit of collaboration and mentorship. A major focus of the program is development of a community of scholars, fostering a commitment to lifelong learning, and cultivating an area of clinical scholarly inquiry.

DNP Program Outcomes
1.
Analyze scientific data related to healthcare models and strategies that affect population health. (Essential I, VII)

 

2.
Integrate knowledge from nursing and other sciences as the foundation for the highest level of advanced nursing practice. (Essential I)

 

3.
Synthesize relevant findings from evidence for practice to improve healthcare outcomes. (Essential III)
4.
Employ leadership skills for interprofessional collaboration that improve patient and population health outcomes.(Essential VI)
5.
Utilize information systems technology to evaluate outcomes of care, care systems, and quality management. (Essential IV)
6.
Evaluate methods that improve complex healthcare delivery systems to maintain accountability for quality healthcare. (Essential II)
7.
Initiate the development, implementation, and analysis of healthcare policies that promote ethical and social responsibility. (Essential V)
8.
Evaluate cultural competence to improve patient and population outcomes. (Essential VII)
9.
Evaluate clinical competence and organizational skills appropriate to area of specialization through life-long learning and reflections. (Essential VIII)
DNP Program Requirement
                          GRADUATION REQUIREMENTS

                      (with Advanced Standing)

CREDITS

 

 

SCIENTIFIC UNDERPINNINGS

 

HND 612: Theories of Applied Science

3

HND 650: Systems Theory

3

 

DNP PROJECT CORE

 

HND 647: DNP Seminar (Clinical Inquiry, Review of Literature)

4

HND 655: Doctoral Synthesis I (Planning, Methods, Implementation)

5

HND 665: Doctoral Synthesis II (Management & Analysis of Data)

6

HND 675: Doctoral Synthesis III (Scholarly Dissemination)

6

 

ANALYTICS & INFORMATICS CORE

 

HND 635: Biostatistics

3

HND 645: Large Datasets

3

 

ADVANCED CLINICAL PRACTICE CORE

 

HND 615: Genomics

3

 

POPULATION HEALTH CORE

 

HND 625: Health Policy and Social Justice

3

HND 640: Principles of Epidemiology/Global Health

3

 

                                                              TOTAL CREDITS

 

42
IF YOU NEED FURTHER INFORMATION ABOUT THE DNP PROGRAM, CONTACT:

Dr. Dolores Bilges
Email address: dnp.nursing@stonybrook.edu