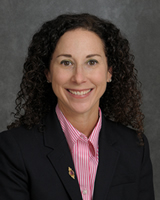 Credentials:
DNP, PMHNP, BC, PMHCS, BC
Email Address:
Susan.Glodstein@stonybrook.edu
Department:
Graduate Studies/Advanced Practice Nursing
Profile:
Profile:
My program of scholarship is focused on the intersection of clinical education and psychiatric mental health care of at risk youth in the community. I created an educational opportunity for undergraduate nursing students to work with single teenage mothers living in a safe-house environment. Students functioned as mentors, conducted support groups, and provided health education. As a result of this program, I am developing similar educational units for graduate nursing students. My clinical practice in psychiatric health care is in the community seeing clients in assisted living facilities. Related to this program of scholarship is an interest in suicide screening and prevention among at risk youth.
For my research, I am examining Advanced Practice Nurses attitudes towards Suicide Prevention in Teens and Young Adults. I would like to develop a program for graduate students to utilize that allows them to learn about themselves. I started to formulate a plan for undergraduate students to mentor single teenage mothers living in transitional housing with their children while I was teaching undergraduate nursing students. Since 6/15 I have been conducting "Gatherings" which are support groups for new psych NP students. The focus of the Gatherings are support, modeling, and mentoring. 
I have completed a chapter on psychiatric nursing approaches in patients with cancer for a book, published 9/15, entitled Issues of Cancer Survivorship, editor D. Kantor. I am investigating Advanced Practice Nurses attitudes toward suicide in the 15-24 -year population as a doctoral project. I am the author of an article related to my research, published in the 12/15 edition of Compasspoint, the Association of Camp Nurses, a peer reviewed journal.
My course work in the DNP program at Case Western Reserve University, Frances Payne Bolton School of Nursing stimulates many of my research interests and compliments the courses I teach. I have completed my coursework and plan to complete my research and study in the next year (2017). 
Many of my interests are a reflection of my experiences over the last 29 years as a psychiatric nurse. I am a board certified Psychiatric Nurse Practitioner/Clinical Nurse Specialist. 
This information presented is an accurate compilation of my professional biographical information and was updated 11/16. 
Credentials:
Susan L. Glodstein, PMHNP, BC; PMHCNS, BC
Education:
 MSN-Columbia University
BSN-Rutgers the State University
Clinical Specialties:
Psychiatric-Mental Health
Primary Teaching Areas: Graduate School of Nursing
Research and Academic Interests: Suicide in teens and young adults, therapeutic communication, mentoring, trauma, aging and mental wellness, substance abuse, family therapy, dream interpretation.
Research (selected): current DNP in progress Advanced Practice Nurses Attitudes towards Suicide in the 15-24-year old population
Publications (selected):
Glodstein, S. (2015). Suicide prevention and education in the camping community. CompassPoint, Journal of the Association of Camp Nurses, 25(4).
Glodstein, S. (2015). Mental Health Nurses in D. Kantor, D.  & Zelda, S. (Eds.), Issues in Cancer Survivorship, (pp. 195-201). New York: Wolters Kluwer.
Donahue, N. & Glodstein, S. (2013).  Mentoring the needs of nontraditional students.
Teaching and Learning in Nursing, 8(1), 2–3. DOI: http://dx.doi.org/10.1016/j.teln.2012.07.003
Bai, X., Duncan, R., Horowitz, B. Graffeo, J., Glodstein, S. Lavin, J. (2012) The Added Value of 3D Simulations in Healthcare Education. International Journal of Nursing Education, 4(2), 67-72.  ISSN : 0974-9357.
Glodstein, D., Glodstein, S., & Fornaro, J. (2010) Fraud Trauma Syndrome: The Victims of the Bernard Madoff Scandal. Journal of Forensic Studies in Accounting and Business. 2(1), 1-9. 
Ramos, F. & Glodstein, S. (1996). Documentation in Lego, S. (Ed),   Psychiatric Nursing: A Comprehensive Reference.  Philadelphia: Lippincott Williams & Wilkins.
Presentations (selected)
1996            Presented "Multidisciplinary Team Building" and "The Juggling Routine: Mother, Wife, and APN" at the Second Annual Northeast Regional Psychiatric APN Conference.
1997            Presented "Beefing Up Psychiatric Emergencies" at the Third Annual       Northeast Regional Psychiatric APN Conference. New Paltz, NY.
10/2010 Poster presentation on Fraud Trauma Syndrome and Posttraumtic Stress            Disorder at APNA Annual Conference in Kentucky.
 3/2011      Co-presented SUNY Farmingdale Nursing Conference
 5/2011 Co-presented  Multidimensional Learners Students at York College at Downstate Conference
 4/2015 Stony Brook University-Converging Science Summit-Break-out session presenter A Plan to Implement Suicide Prevention in Teens and Young Adults from Evidence Based Practice Findings
 3/2016 Poster Presentation on Learning Outside the Classroom, HESI conference, Las Vegas
 8/2016 oral presentation at World Congress on Midwifery and Women's Health- Atlanta- Advanced Practice Nurses mentor teen moms in a shelter setting a unique experience to incorporate in nursing curriculum
Major Accomplishments / Honors