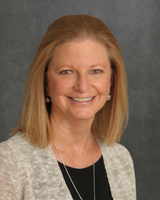 Email Address:
elizabeth.collins@stonybrook.edu
Department:
Graduate Studies/Advanced Practice Nursing
Position:
Director - Advanced Practice Nursing Program in Women's Health, Clinical Assistant Professor
Profile:
Profile 
Elizabeth Cole Collins is a clinical assistant professor and director of the advanced practice nursing program in women's health at Stony Brook University School of Nursing. Her clinical background includes experience in gynecology, obstetric, neonatal intensive care, and acute care pediatric settings. She teaches maternal-newborn and women's health courses in the undergraduate and graduate programs, and research-focused courses in the DNP program. She is a member of the Health & Disabilities Services Advisory Committee of Long Island Head Start, and is a reviewer for MCN: The American Journal of Maternal Child Nursing. Dr. Collins has been a lactation consultant at Stony Brook University Hospital since 1996. She is a member of the International Lactation Consultant Association, serving on the Executive Team of the Professional Development Committee. 
Credentials:  Elizabeth Cole Collins, PhD, WHNP-BC, IBCLC 
Education: 
PhD, Duquesne University 
MSN, University of Pennsylvania 
BSN, University of Pennsylvania 
Clinical Specialties: 
Women's Health 
Primary Teaching Areas:
Women's Health 
Research 
Pharmacology
Research and Academic Interests: menopause symptom management, postpartum health care, breastfeeding, genetics in nursing education
Publications (selected): 
Collins, E.C., Guimei, M., & Rohan, A. (2016). Toward evidence-based practice. MCN: The American Journal of Maternal Child Nursing, 41(6), 376-378. 
Ziemer, M., Paone, J., Shupay, J., & Cole, E. (1990). Methods used to prevent and manage painful nipples in breastfeeding women. Western Journal of Nursing Research, 12, 732-744.
Presentations (selected): 
Hudes-Lowder, M., & Collins, E.C. (September 2016). Patient acceptance of decreased cervical cancer screening frequency in an urban practice. 19th Annual Nurse Practitioner in Women's Health Premier Women's Healthcare Conference, New Orleans, LA. (Podium) 
Collins, E.C., Sekula, L.K., & Cohen, S.M. (November 2015). Acupuncture and menopausal memory changes in women with breast cancer. Sigma Theta Tau International 43rd Biennial Convention, Las Vegas, NV. (Poster)
Major Accomplishments / Honors:
Women's Health Research Award. Nurse Practitioners in Women's Health 19th Annual Women's Healthcare Conference, 2016 
Excellence in Clinical Practice Award. Sigma Theta Tau, Kappa Gamma Chapter 
Excellence in Service to Chapter Award. Sigma Theta Tau, Kappa Gamma Chapter