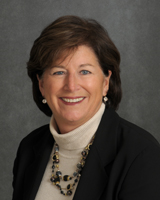 Email Address:
Patricia.Bruckenthal@stonybrook.edu
Position:
Associate Dean for Research and Innovation
Profile:
Profile
Dr. Bruckenthal, PhD, APRN-BC, ANP, FAAN is Associate Dean for Research and Innovations and Associate Professor at Stony Brook University School of Nursing. Her PhD in Nursing was completed at the University of Massachusetts, Amherst and her post-doctoral training at the Applied Behavioral Medicine Institute at Stony Brook University, Department of Psychiatry. A nationally and internationally recognized nurse scientist, educator, and clinician; Dr. Bruckenthal has devoted her career to improving the assessment and management of people with chronic pain.
Specifically, her focus is on using techniques to engage persons with chronic pain in self-management. As a member of a multi-site, NIH funded research team investigating Nurse Practitioner led Coping Skills Training for Osteoarthritis Patients, she integrated the philosophy and skill of advanced practice nursing in the development of the proposal and in the delivery of the intervention. Part of her role was to conduct nurse practitioner training and supervision for the intervention. The application of this intervention has been expanded by implementing a formal training model for advanced practice nurses and other health professionals. Training health professionals in health behavior change beyond the current pool of mental health providers will increase access to care for pain and other chronic conditions requiring self-management. One of the most rewarding aspects of her program of research to date is being at the point of being able to translate the application of the large Coping Skills clinical trial into practice.
Pain assessment is challenging, particularly among cognitively impaired elders. To address this issue, other research interests of Dr. Bruckenthal investigated an instrument to assess pain in cognitively impaired older adults unable to communicate information about their pain. As co-investigator of this multi-site study, she developed the psychometric assessment plan for the instrument and provided education to the nursing staffs in skilled nursing facilities on the use of this instrument.
In addition, Dr. Bruckenthal was integrally involved in the development of in inter-professional educational and care delivery model to deliver preventative health screening and health promotion to older adults and vulnerable populations. The Partnership for Advancing Collaborative Education (PACE) center evolved from a partnership with Stony Brook Dental Medicine Center and has expanded to outreach community senior centers and transitional housing centers. Plans to expand the reach of this model to seniors through virtual connectivity are in development. In addition, the clinic functions as a faculty practice site, a training site for nurse practitioner, social work, and dental medicine students, and as a site for nurse faculty led research.
After serving as Chair of Graduate Studies in Advanced Practice Nursing for six years, Dr. Bruckenthal accepted the position of Associate Dean for Research and Innovations. In this role, her goal is to foster excellence in faculty and student research largely informed by practice. She envisions several strategies to facilitate this plan. Faculty and students have the opportunity to self-declare research interests and faculty scholarship development needs. Together we mutually construct a plan to meet these needs and align them with the mission of the School of Nursing and foster collaborations with researchers and expert clinicians both within Stony Brook University and outside the campus walls. Resources to facilitate this process through expanding connections with multidisciplinary departments, including but not limited to, specific clinical departments, population health, biomedical informatics, computational science, and engineering have been identified.
Her strong clinical background in pain management has provided her with the opportunity to become an expert in pain management education in the school of nursing, and to the larger community both regionally, nationally, and internationally. Regardless of the venue, she incorporates her teaching philosophy, based on experiential learning. Dr. Bruckenthal develops assignments that allow students to acquire knowledge and skills and apply these in relevant settings. Students are asked to reflect on direct encounters with patients (or phenomena under study) to enhance learning needs as appropriate. This cyclical process fosters students to build on prior experiences and apply new learning to subsequent experiences. Discourse through case presentations is an essential part of this process. Her clinical practice for over 25 years enriches understanding of phenomena under discussion in many instances. As science and its application is often an active dialogue between investigators and clinicians, using discourse as a teaching strategy sets the stage for lifelong learning that is integral to a profession such as nursing.
Dr. Bruckenthal sits on several advisory committees with the goal of improving outcomes for people with chronic pain including the Pain Action Alliance to Implement the National Pain Strategy of the Center for Practical Bioethics, and the States Pain and Policy Action Alliance. She has served as an advisor for multiple doctoral projects on pain management. She is recognized nationally as an expert in pain management and has been asked to develop and advise on pain management curricula for the Medical Society for the State of New York, development a post-acute care cross-setting standardized assessment instrument in conjunction with the RAND corporation for Centers for Medicare and Medicaid, and a member of the Collaborative Education in Substance use advisory council for Harvard Medical School/Department of Global and Continuing Education. She is a fellow of the American Academy of Nursing and Advanced Diplomat American Academy for Integrative Pain Management, has served as the President of the American Society for Pain Management Nursing and is an Associate Editor for Pain Management Nursing.
Credentials
Patricia Bruckenthal, PhD, APRN-BC, ANP, FAAN
Education
BS, Nursing, Stony Brook University School of Nursing, 1981
MS, Nursing, Stony Brook University School of Nursing, 1987
PhD, Nursing, University of Massachusetts, Amherst, 2004
Post-Doctorate, Applied Behavioral Medicine Research Institute, Stony Brook University, 2006
Clinical Specialties
Pain Management
Care of Older Adults
Self- Management Support
Primary Teaching Areas
Doctorate of Nursing Practice Research Seminar
Doctorate of Nursing Practice Synthesis Courses
Health Policy
Selected Topics in Pain Management
Graduate Research Sequence
Research and Academic Interests
Pain Coping Skills
Motivational Interviewing
Health Promotion and Health Prevention Screening
Research (selected)
NIH/NINR: R01 Myalgic Encephalomyelitis/Chronic Fatigue Syndrome (ME/CFS): Activity patterns and autonomic dysfunction. Project Director, $1,460,00 2016-2020
HRSA: Partnership to Advance Collaborative Education (PACE) Center for Senior Health and Wellness at Stony Brook Dental Care Center Co-project director $1,393,053 2015-2018
Expanding access to Pain Coping Skills Training (PCST): A professional certificate program to enable Advanced Practice Registered Nurses to fill the gap. Pfizer Independent Grants for Learning & Change. Co-Investigator $350,00 2015-2017
State policies governing Advanced Practice Nurse prescriptive practice: The impact on safe practices in pain management. Principal Investigator. $5,000 2013-2015
The use of Therapeutic Interactive Voice Response for maintenance of Coping Skills Training for Osteoarthritis. Co-Investigator. Stimulus Funding NIH, NIAMS $546,454 2009-2011
Putting the Certified Nursing Assistant Pain Assessment Tool (CPAT) to Work: Psychometric testing and evaluation of a pain intervention in nursing home patients with dementia. Co-investigator. NYS DOH $850,00 2007-2010
Coping skills training for arthritis: An effectiveness trial. Co-investigator. RO1 NIH, NIAMS $3,400,000 2007-2012
Publications (selected)
Bruckenthal, P, Marino, M., Snelling, L. (2016).Complementary and Integrative Therapies for Persistent Pain Management in Older Adults: A Review, Journal of Gerontological Nursing. 42:40-48
Simpson, M., Bruckenthal, P. (2016). The current state of perioperative pain management: Challenges and potential opportunities for nurses. AORN, 104:S1-S8 Bruckenthal, P., Simpson, M. (2016). The role of the perioperative nurse in improving surgical patients' clinical outcomes and satisfaction. AORN, 104: S17-S22
Doctor, J.N., Cowan, P., Meeker, D., Bruckenthal, P. Broderick, J.E. (2016, October 4). Encouraging integrative, non-opioid approaches to chronic pain: A policy agenda, Retrieved from http://healthaffairs.org/blog/2016/10/04/encouraging-integrative-non-opi... oaches-to-pain-a-policy-agenda/.
Turner, H., Bruckenthal, P., O'Connon-Von, S., Peltier, C.(2016) Pain Management Nursing: Scope and Standards of Practice. 2nd Edition. American Nurses Association. Silver Spring, MD. ANA & ASPMN
Bruckenthal, P. (2016) The Role of the Pain Management Nurse in Evidenced Based Practice. Core Curriculum American Society for Pain Management Nursing. 3nd Edition (Helen Turner, Ed. ) Elsiver. In press
Bruckenthal, P. (2016)Pain in the Older Adult. Brockelhurst's Textbook of Geriatrics and Clinical Gerontology, 8th Edition. (Howard Fillit, Kenneth Rockwood, Kenneth Woodhouse Eds. )Saunders-Elsevier.
Broderick, J., Keefe, F., Schneider, S., Junghaenel, D., Bruckenthal, P., Schwartz, J., Kaell, A., Caldwell, D., McKee, D., Gould, E. (2016). Cognitive behavioral therapy is effective, but for whom? Pain. PMID:27227692 DOI:10.1097/j.pain.0000000000000626
Broderick,J., Keefe,F., Bruckenthal,P.,Junghaenel,D., Schneider,S., Schwartz,J., Kaell, A.,Caldwell,D., McKee,D., Reed, S., Gould,E. (2014) Nurse Practitioners can effectively deliver Pain Coping Skills Training to osteoarthritis patients with chronic pain: A randomized, controlled trial. Pain. 155, 1743-1754
Bruckenthal, P. Barkin, R. L.,(2013) Options for treating postherpetic neuralgia in the medically complicated patient. Therapeutics and Clinical Risk Management. 9, 329-340
Cervo FA, Bruckenthal P, Fields S, Chen, J. J.,Bright-Long, L. E.,Zhang, G.,Strongwater. (2012)The Role of the CNA Pain Assessment Tool (CPAT) in the Pain Management of Nursing Home Residents with Dementia. Geriatric Nursing; 33(6): 430-438. PMID: 22651977
Santos, S.,Bruckenthal, P.,Barkin, R. (2012) Strategies to Reduce the Abuse of Long Acting Opioids: Potential Risks and Benefits of Formulations with Physical or Pharmacological Deterrents to Tampering. Mayo Clinic Proceedings; 87(7):683-694. PMID:22766088
Broderick, J.,Junghaenal, D.,Schneider, S.,Bruckenthal, P.,Keefe, F. (2011)Treatment Expectation for Pain Coping Skills Training:Relationship to Osteoarthritis Patients' Baseline Psychosocial Characteristics. Clinical Journal of Pain, 27 (4 ), 315–322. PMID: 21178591
Presentations (selected)
Bruckenthal, P. (2016) Best Practice Approaches for Complementary, Alternative and Integrative, Non-Pharmacological Management of Pain. Pain and Palliative Care Webinar Series. National Hartford Center for Genrological Nursing Excellences. Supported by the MayDay Fund. Available at https://hign.org/nca/contact.html
Bruckenthal, P. (2016) Motivational Interviewing in Managing Pain. Providers' Clinical Support System for Opioid Therapies Training (PCSS-O). Available at http://pcss-o.org/education-training
Morgan, C., Bruckenthal, P. (2016). Revisiting the Role of Opioid Analgesics for Simple and Complex Patients with Chronic Pain. Sponsored by the Medical Society of the State of New York and The New York State Office for Alcoholism and Substance Abuse Services.
International
Bruckenthal, P. (2012) Irish Pain Society Annual Scientific Sessions, Global Year against Headache. Galway, Ireland. October 20, 2012, Invited
Bruckenthal, P.,St. Marie, B. (2012).Legal Pain Cases: Lessons Learned. Mater Misericordiae University Hospital, Dublin, Ireland. October, 19, 2012, Invited
National
Bruckenthal, P. (2016) Developing Effective Posters. American Association for Pain Management Nurses. Louisville, Ky. September 2016
Bruckenthal, P. (2016) From Podium or Poster to Publication: Strategies for Success. American Association for Pain Management Nurses. Louisville, Ky. September 2016
Bruckenthal, P., Wilkens, T. (2016) Evidence-Based Practice Project Development: From Idea to Implementation. Advanced Practice Nurses Pre-Conference Workshop. American Association for Pain Management Nurses. Louisville, Ky. September 2016
Bruckenthal, P. Broderick, J., Keefe, F. (2015) Nurse Practitioners Effectively Deliver Pain Coping Skills Training to Patients with Osteoarthritis: Results from a Randomized Controlled Trial. ENRS 27th Annual Scientific Sessions. April 15-17. Washington, D.C. Podium
Canella, D., Truhlar, M., Marino, M., Bruckenthal, P. (2015) Meeting Interprofessional Standards: A Partnership to Advance Collaborative Education (PACE). American Dental Education Association, Boston, MA. March 7-10, Workshop Bruckenthal, P. and Gilson, A. (2014) Application of the Advanced Practice Nurses' Attitudes and Behaviors about Opioid Prescribing for Chronic Pain Survey. American Association for Pain Management Nursing 24th National Conference, San Diego, CA. September 2014
Bruckenthal, P. and Gilson, A. (2013) Nursing Pain Practice, The Need to Consider Policies Governing Prescriptive Authority. American Association for Pain Management Nursing 23rd National Conference, Indianapolis, IN. October 9-12
Bruckenthal, P. (2012).Behavioral Aspects of Pain Management and the use of CAM in the elderly.. The Mary Faucett Lecture Series, Mayo Clinic, Rochester, Minnesota. September 18-19,
Regional
Bruckenthal, P. (2016)Nurse Practitioners can Effectively Deliver Pain Coping Skills to Patients in the Community Setting. The Nurse Practitioner Association New York State 32nd Annual Conference. Niagara Falls, NY. October 1, 2016.
Bruckenthal, P. (2016)Stepping to the Podium: Taking Your Data Public.. Step by Step: Translating Common Traumatic Injuries into Accurate Registry Records. Stony Brook Trauma Center Annual Nursing Conference. Stony Brook Manhattan Campus. August 19, 2016
Bruckenthal, P., Argoff, (2012)A Primer in Pain for the Primary Care Physician and Non-Specialist. C. New York State Pain Society's Inaugural Annual Meeting and Scientific Sessions . West Harrison, New York. April 27-29, 2012, Invited
Bruckenthal, P. (2012)Utilization of a Systems Approach Improves Pain Management in Nursing Home Residents with Cognitive Impairment. Eastern Nursing Research Society 24th Annual Scientific Sessions. New Haven, CT. March 29, 2012, Podium
Bruckenthal, P. (2012)Pain Management in Vulnerable Populations: Blending the Scholarship of Practice of Practice, Mentorship, and Research. 21st Annual Collaborative Research Day, University Health Systems of Eastern Carolina, Eastern Carolina University College of Nursing, Sigma Theta Tau, Beta Nu Chapter. Greenville, NC. February24, 2012, Keynote Speaker
Major Accomplishments / Honors
Advanced Diplomat American Academy for Integrative Pain Management (2016)
Inducted as a Fellow in the American Academy of Nursing (2014)
Past President of the American Society for Pain Management Nursing (2013-2014)
ASPMN Leadership Excellence Award, American Society for Pain Management Nursing (2014)
Excellence in Research Award, Sigma Theta Tau, Kappa Gamma Chapter (2010)
ASPMN National Nurse Exemplar Award in Pain Management of the Older Adult (2008)