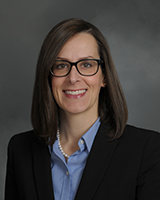 Email Address:
Santina.Abbate@stonybrook.edu
Position:
Clinical Assistant Professor
Profile:
Profile
Tina Abbate, PhD, MPA, MS, RN is a Clinical Assistant Professor at Stony Brook University's School of Nursing. Dr. Abbate completed her PhD in Nursing, a Master of Science in Nursing, Master of Public Administration and Bachelor of Science in Nursing at Binghamton University. Dr. Abbate began her teaching career at Binghamton University and recently joined the faculty at Stony Brook in 2015. She currently teaches in the Undergraduate Studies department in both the live and online class environments. Dr. Abbate's focus of research encompasses active learning strategies and retention of information.
Education
BS, Nursing, Binghamton University, 2000
MS, Nursing, Binghamton University, 2008
MPA, Binghamton University, 2010
PhD, Nursing, Binghamton University, 2015
Clinical Specialties
NICU
Postpartum
Community/Public Health
Primary Teaching Areas
Undergraduate Studies= Research, Transitions into Professional Practice and Population Health
Research and Academic Interests
Retention of Knowledge in Undergraduate Nursing Students
Flipping the Classroom
Team-Based Learning
Use of Technology in the Classroom