Stony Brook University School of Nursing Announces Opening of PhD in Nursing Program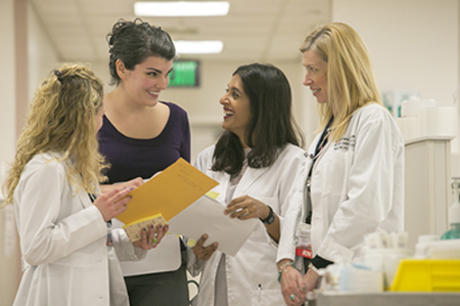 The PhD in Nursing will add depth and breadth to our research enterprise by implementing innovative strategies to enhance graduate education and our commitment to research excellence.  The program aims to enhance student and faculty engagement in transformational research that will advance nursing science and improve the health and well-being of the State of New York's increasingly diverse population and beyond.
The PhD in Nursing program will begin in the Summer of 2018. The 54 credit, cohort-based program will be offered on-site, one day per week and will take 2 ½ year to complete with an additional one year for dissertation completion.  While there are other PhD in Nursing programs on Long Island, this is the first offered at a public university and the first in Suffolk County. 
Stony Brook's PhD in Nursing program will attract candidates oriented towards developing new nursing knowledge in the spirit of scientific inquiry and who will select an area of research congruent with interdisciplinary faculty expertise in basic and clinical sciences.  A key strength of the program is the School of Nursing's research partnerships with research scholars from the other health professions schools of Stony Brook Medicine, our clinical partner, Stony Brook University Hospital, as well as partnerships with biomedical engineering, computational science, biomedical informatics, and basic sciences.  Key areas of nursing science in which potential PhD students may focus include, but are not limited to; symptom science, health promotion and illness prevention, and self-management. The Stony Brook School of Nursing PhD in Nursing program offers the opportunity to develop the next generation of nurse scientists equipped to strengthen nursing's contribution to the profession and to the health and healthcare of individuals and populations by finding innovative solutions to today's complex health care problems.  
For more information please contact Linda Sacino, PhD Program Assistant, at linda.sacino@stonybrook.edu or 631-444-3262.
PhD Program FAQ's
How do I apply?  There is a link to the application on the School of Nursing web site on the PhD page under academic programs;graduate studies
When will the application become available? The PhD program application is now open
Is the application the same for former SON students?  All applicants for the PhD program will fill out the same application
Is there any financial assistance to attend the SON PhD program?  There will be partial student support via a graduate assistantship mechanism.  Students may also explore other scholarship opportunities.
How many students do you expect to admit?  We anticipate admitting four students for a summer 2018 start date.
Will the program be offered on-line or on campus (face-to-face)?  The full-time, cohort-based program, to be offered on-site (one day/week) with web-enhanced technologies, contains three phases: Coursework, Proposal Development and Dissertation. Coursework and proposal development will take two and one-half years to complete with an additional one year for dissertation completion.
What are the admission requirements for the PhD Program in the SON?
To be considered for admission, applicants must submit a completed application online and meet the following admission requirements (All documentation must be submitted to the PhD in Nursing Program):
1.            Applicants to the Ph.D. in Nursing Program must hold a Master's degree in nursing from a nationally accredited program or its international equivalent.  Students with a master's degree in a related discipline (i.e, MPH or MPH) and a Bachelor's in Nursing may also be considered.
2.            A current unencumbered license to practice as a registered professional nurse
3.            One official copy of any transcript from any undergraduate college or university attended, from which a degree was conferred. Applicants must submit one official copy of any transcript relating to any graduate level work undertaken, regardless of whether or not a degree was earned.  Note:  Educational systems that cannot be compared to the United States must be evaluated by a US credentials evaluation service before admission can be finalized.
4.            Minimum overall GPA of 3.0 on a 4.0 scale
5.            Graduate Record Examination (GRE) General Test.  Official score reports must be sent directly from ETS (photocopies are not acceptable).
6.            Three letters of recommendation attesting to your academic ability and
7.            Evidence of successful completion (grade C or better) of a graduate-level statistics course within the last five years
8.            Curriculum Vitae including education and employment history; honors and awards; and publications and grantsmanship. Must demonstrate a progressive record of professional development in nursing
9.            A personal interview with PhD program faculty
10.          An exemplar of scholarly writing (e.g., publications)
11.          A statement of professional goals and research interests including reference to Stony Brook University School of Nursing PhD faculty whose current research is aligned with your areas of interest and expertise.